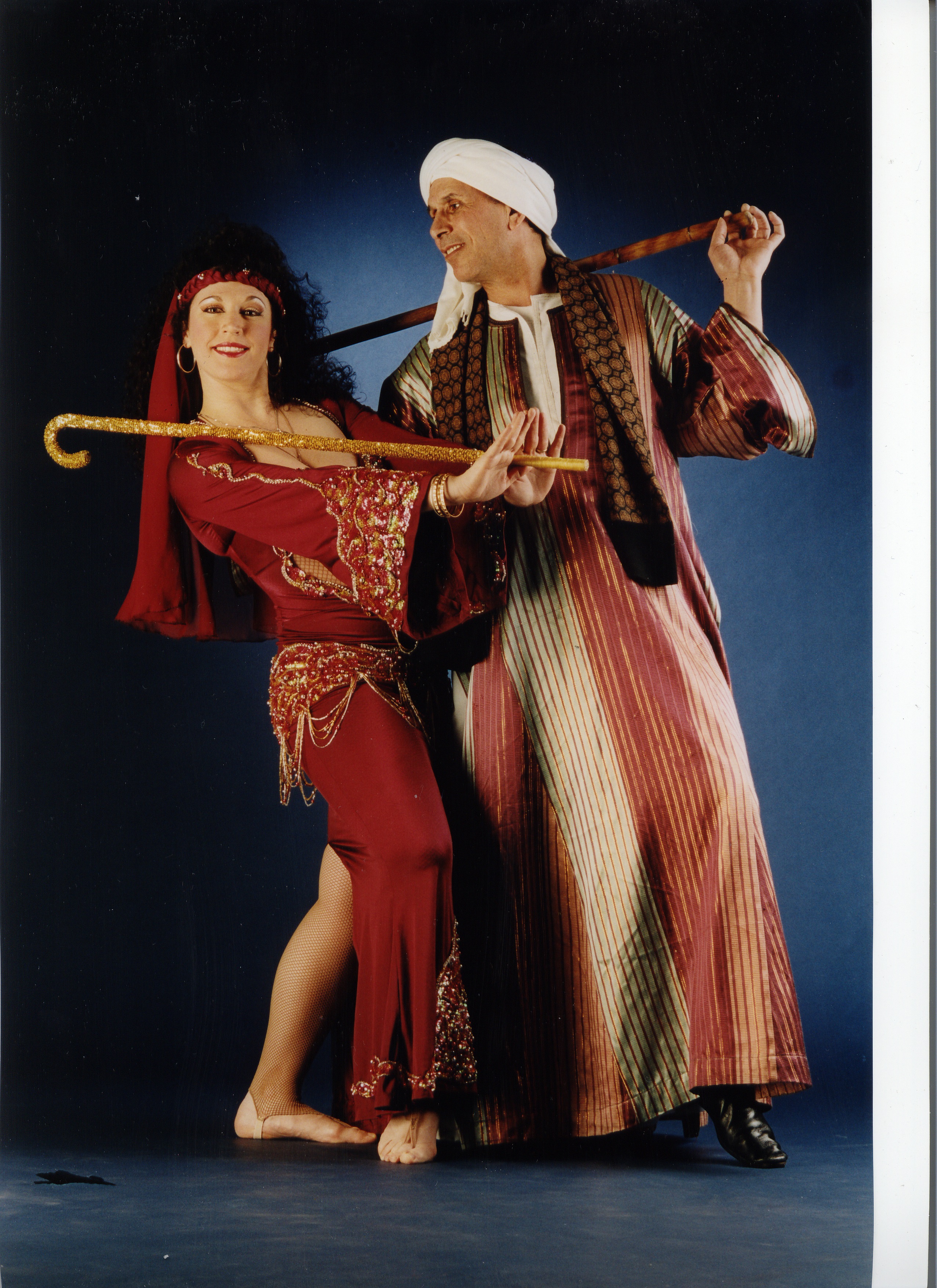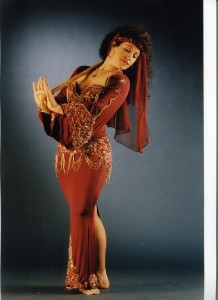 The Saidi dance is originally from Upper Egypt between Gizeh and Edfu (Sa'id).  The Saidi can be danced by both men and women. A Saidi dance can start out with an improvisation where the dancer uses his stick(s) to "act" out or show his skill in how he handles them.  Once the music picks up, the Saidi dance can be very lively, energetic and earthy. Tahtib originated in Upper Egypt or the Sa'id , which is in the southern part of Egypt.  Traditionally in the Sa'id, men carried long sticks as weapons and the male stick dance evolved out of the displays of combat skills using these sticks.  A tahtib performance consists of the men acting out a mock conflict, striking the ground or each other's stick, circling the sticks above their heads and shoulders performing hops and jumps.  Tahtib is normally exclusive for the male dancer.  Saidi men carry their sticks proudly wherever they go, using them for walking as well as protection. The women's version of Raks Assaya is a more feminine, joyful and coquettish dance, but does not hesitate to occasionally imitate a macho  quality.  The dance also often incoroporates a lighthearted imitation of the tahtib, as a way to make jest of the men.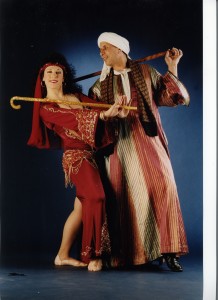 Women dancers generally use a thinner, more lightweight stick that may have a shepherd's hook at one end. Women can also perform Said to beledi music, showing her improvisation  skills in the beginning with the "tet" part.  Here the dancer can be coy and playful as well as demonstrate her strength.  The traditional costume for men is two galabias, one colorful worn over a  plain one.  A large headdress consisting of many scarves, a scarf around the neck and shoes or boots.  Women have a couple of  choices in   costume.  She can wear a beledi thobe (dress) with hip belt or scarf, headscarf with bright pom poms (like that worn in the Melaya Lef), or a  traditional Saidi thobe with hip belt and matching headpiece with or without  a long headscarf. Sometimes a dancer will perform Raks Al Assaya while in an oriental costume if the music has a Saidi piece in it.
The Saidi rhythm is a 4/4 rhythm D T DD T and is traditionally used,  however, in Lebanon, many dancers dance Saidi on the Dabke rhythm, T D T DD T.
References:  Mustapha El Oueslati, [email protected]; Nadia Hamdi, Cairo, Egypt, the Late Salah Mohammed Hamdi (brother of Abdel Wahab Mohammed, known lyrics accompanist), Salah Rahbiah, forer Director of Balloon Theatre and one of the best ney players in Egypt.