Khadejah & Mustapha  have performed in theatres and television  throughout Europe, Tunisia, and America.  Their repertoire covers the spectrum of Middle Eastern and North African dance.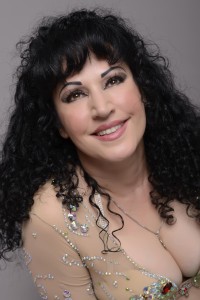 KHADEJAH
Born in America, Khadejah has lived abroad since 1987 in Europe, the Middle East and North Africa. She was the Artistic Director of the Ahlam Dance Theatre in Germany that she and her husband founded in 1989. Known for her authenticity, she is a Master Instructor/Choreographer and teaches and performs Internationally. Her repertoire includes Raks Sharki, Arabic and North African folkloric dances. Among her many successes, she opened the show for Hakim at the Carthage Festival in Tunisia in 2001 and was the first American invited to teach at Raqia Hassan's Ahlan Wa Sahlan Festival in 2002 and 2003 where she taught Tunisian folklore. She performed with the renowned World Peace music group featuring Yair Dalal. A member of the Tunisian Mothers Association, she has participated in numerous fund raising charities to aid Tunisian mothers and children. She is also a long time member and teacher with the Bundesverband fur Orientalische Tanz in Germany. Khadejah has appeared on television in the USA, Canada, throughout Europe, Middle East and North Africa. She continues to travel and study to expand her knowledge and seeks new inspiration wherever she goes. She teaches private as well as group classes and offers coaching for all levels.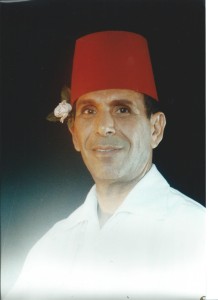 MUSTAPHA
Mustapha, a retired Diplome Civil Engineer, has acted and played in several theatres in Munich and Frankfurt/M as well as in Tunisia. Born in Jendouba, Tunisia, he has been dancing since he was a child and has lived in Germany, the Middle East and North Africa. Throughout his travels to Arabic and Balkan countries, he collected a wealth of knowledge and new impressions about its people, their culture and dances. He has incorporated this experience in his workshops and performances. His heart belongs to all International Folk Dances. He writes poetry and short stories and has successfully done so in four languages. Although some of his work has been published, his pen never gets tired and he is in the process of publishing more of his work. His dance background includes folk dances from Arabic and Balkan countries.